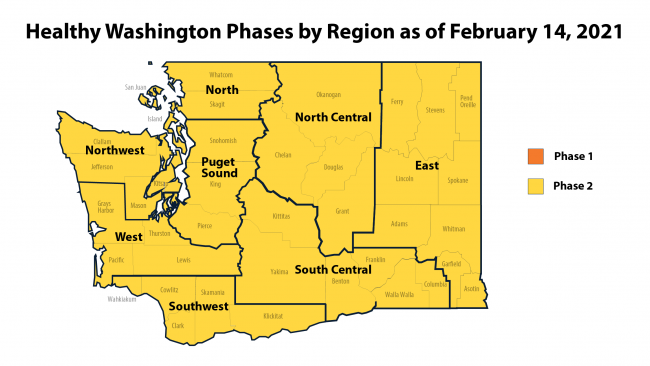 Gov. Jay Inslee announced all regions may progress to Phase 2 of the Healthy Washington reopening plan.
For the purposes of real estate, this means that the following activities are allowed:
For in-person open houses in Phase 2, brokers must ensure that no more than ten (10) people are on site, including the broker, and that all other required protocols are followed (face coverings, social distancing, sanitation, etc.)
As a reminder, all other in-person activities such as previews or showings must be by appointment, and a total of no more than five (5) people, in addition to the broker, are permitted at the property at any one time, and those people adhere to strict social distancing guidelines.
For in-person open houses, firms should develop processes that brokers follow to ensure compliance, including the following:    
Post signs at the property (e.g. on the open house signs, at the front door, inside the property, etc.) alerting the public to the occupancy restriction and reminding the public to wear face coverings and social distance.
Brokers need to carefully monitor the number of persons on site at any one time and not admit more than the allowed number of persons into the property.
Brokers need to constantly monitor the front door and potentially lock the door from time to time to prohibit additional persons from entering.
Firms may consider assigning two brokers to an open house – one to stand outside and monitor the number of persons admitted to the property, and the other to be inside the property.
Brokers must enforce the face covering requirement.
Persons waiting to enter the property must social distance and wear face coverings.
Clean and disinfect all surfaces, before and after the open house, and have sanitizer placed around the property.
Because contact tracing in the event of an outbreak is important, brokers should maintain a sign-in sheet that includes contact information for all attending an open house.
Please keep in mind that the firm and broker hosting an open house are at risk of criminal and civil liability for failure to fully comply with the required protocols.
Please reference the Washington REALTORS® COVID-19 Real Estate FAQ Guidance for more information on protocols and requirements.